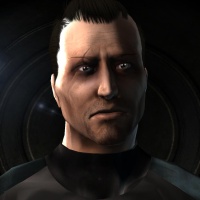 This blog is about the daily life of Morphisat in the Eve Online Universe. He begin his life there in late November, 2005 in Tat. as a member of the school of applied knowledge. The tutorial went nice and smooth until the fourth storyline mission, where he had to venture into 0.4 space for the first time to deliver some documents. Unfortunately his rookie ship and the documents got one-shot blown to bits and pod killed and he wasn't able to finish this storyline :(.
But after this small set back, with 200k ISK in the bank, he bought a Bamtam and was well on his way to go exploring, mainly in the Lonetrek region. He did some mining to get more money and also some delivery missions to get some more cash. Then tried to do some kill missions, and soon found out on the first mission that a BamTam isn't exactly suited for that, so Morphi bought a Condor with 2x150mm cannons and started looking for some better agents. The Caldari Navy in Kakaleke was more than willing to accept him and the Public Relations and Security agent provided him with plenty of missions to gain more Isk and standing with Caldari State and the Navy. Pretty soon after learning some skills Morphisat was now able to use a Merlin, so he bought one of those. Since he liked to use missiles as well, a kestrel would soon follow.
Life is lonely in the Eve Online Galaxy all by yourself so he tried to find some fellow travellers and soon found them at the Eve University. A corporation dedicated to learn rookie pilots in the ways of Eve Online. Happy to be a member since december 5th, Morph already learned a lot from the friendly people in the Corp and the Eve University chat channels.
After a month of learning he decided it was time to spread his wings and joined the industrial corp of Rakeriku. He soon learned some extra mining skills and flew a retriever. Met a lot of new friends, some now long forgotten, some still around.
And that's where the story began…
COPYRIGHT NOTICE
EVE Online and the EVE logo are the registered trademarks of CCP hf. All rights are reserved worldwide. All other trademarks are the property of their respective owners. EVE Online, the EVE logo, EVE and all associated logos and designs are the intellectual property of CCP hf. All artwork, screenshots, characters, vehicles, storylines, world facts or other recognizable features of the intellectual property relating to these trademarks are likewise the intellectual property of CCP hf. CCP hf. has granted permission to Morphisat to use EVE Online and all associated logos and designs for promotional and information purposes on its website but does not endorse, and is not in any way affiliated with, Morphisat. CCP is in no way responsible for the content on or functioning of this website, nor can it be liable for any damage arising from the use of this website.